Used Cars for Sale in Hamilton, ON
Used Cars for Sale in Hamilton, ON
Premier dealership with new and pre-owned models

Impressive lot and inventory of various Ford vehicles

Full-service dealership with finance, parts, tire, and service centres

Find an experience that matches your needs at Grimsby Ford

There are tons of reasons our customers continue to come back to Grimsby Ford for all their automotive needs, work with us today and let's find your reason for choosing the best Ford dealership in the area. We want you to know that you're going to find the resources, the care, and the respect that helps put your mind at east while you search through our inventory of used cars for sale near Hamilton, ON. We're just a short drive, and offer a refined and superior experience that highlights the importance of quality that comes from a dealership that wants to impress you.
Enjoy state-of-the-art facilities and departments that have been refined to provide drivers with an experience that connects your wants and needs with real-world results. Join us today and let's work to find the best option from our selection of used cars for sale near Hamilton, ON. Our professionals are on-site to offer assistance when you need it in a hassle-free environment you deserve. We're going to make your time with us feel worthwhile and offer the guidance that connects you with a used car that has the features you're after in your next driving companion. Find us at 455 South Service Road in Grimsby, Ontario, L3M 4H8. We look forward to helping you!
Your Dealership for Used Cars Near Hamilton
Isn't it about time you had an experience at a dealership that really stood out and found you the results you were after without hassle? We think so. Come down to Grimsby Ford and let our team of professionals help you narrow down our options until you find the perfect option out of our inventory of used cars for sale near Hamilton, On. Better still, when you work with the team at Grimsby Ford you can expect the facilities that offer results - whether you need to visit our Service Centre, Parts Department, Collision Centre, Finance Department, or simply have questions you'd like answered. We're here to make your time in our care the best it can be - each and every time you work with us.
Enjoy the convenience of a lot just a short drive from Hamilton, filled with quality used cars at competitive prices. We are proud to provide our customers with the selection that stands a cut above. With all the models you'd expect from a Ford dealer. Check back often for updates on our online inventory list or contact our specialists if you require more information. From the Fiesta and Focus, to the Fusion and Mustang, and all the way up to the C-Max and Taurus - there are tons of Ford cars available to make your life on the road the best it can be - wherever you're heading! Come down to Grimsby Ford today and learn more!
The Outstanding Fiesta
An affordable and attractive addition to the Ford family, the Fiesta has plenty of features that stand out and offer drivers a superior driving experience from an incredible compact car. With awards that include being Consumer Digest' Best Buy Winner, and coming with surprisingly spacious interior passenger volume, you can fit 5 into the Fiesta with ease. Find out more about the Fiesta and its features today at Grimsby Ford.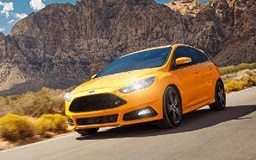 The Amazing Focus and Fusion
The Ford Focus is a car that needs little introduction. With a marvelous look and effective interior and technical design, this is a fine addition to any home. Choose between models that have been equipped with the 2.0-Litre DOHC I-4 engine, the 1.0-Litre EcoBoost I-3 engine, the 2.0-Litre GTDI I-4 engine, or the 2.3-Litre Ti-VCT I-4 engine. With this many options, you can be certain that you're going to be able to find a Focus that has the right features for your time on the road. With the Fusion, you have even more engine configuration options across a plethora of models and technical features. Test drive one or both today at Grimsby Ford.

The Fantastic Mustang and Taurus
Wow. Just wow. The Mustang is the quality vehicle that many drivers have come to call their favourite car, and this modern option is closer than ever to the perfection you're seeking. With a sporty look, the Mustang can be chosen with one of 5 engine options, offering an incredible range of 300 to 526 horsepower depending on model. Then we have the Taurus - also a Ford legend - this car knows how to impress its driver. Come down and drive them today at Grimsby Ford!

The Impressive C-Max
A hybrid unlike any other, the C-Max has been carefully designed to ensure drivers get the most out of this modern car. With a fuel efficiency that ranks in as low as 5.6-L/100 km (50 mpg) you can be certain that you'll have more reason to go for casual drives with this wonderful Ford vehicle. Available in C-Max Hybrid and C-Max Energi, this is a car that's definitely worth a few minutes of your time. Find out everything you need to know today when you work with the team at Grimsby Ford!
The Dealership You've Been Looking For - Grimsby Ford
It's time you had a dealership that is worth telling your friends and family about - with the facilities to keep your current vehicle on the road for years to come along with a team of professionals that want nothing more than to get you the results that make a difference in your life. With years of experience backed by a convenient location, we're confident that you'll find what you're looking for when you choose to work with us! Join us today at 455 South Service Road in Grimsby, Ontario, L3M 4H8.