Ford Dealership Near Hamilton
Ford Dealership near Hamilton
Premier facilities with highly-trained staff to serve you better

Convenient location with quality new and pre-owned vehicles

Service, parts, and financing departments for one-stop purchasing process

Let the team at Grimsby Ford help you find your next Ford in Hamilton today!

Searching for today's best Ford vehicles in the Hamilton-Niagara region just got a whole lot easier thanks to Grimsby Ford. That extra time searching for a dealership has really paid off - because our team is dedicated to getting you behind the wheel of a powerful and innovative Ford vehicle with a minimum of hassle thanks to a deep-seated tradition of customer service. And when we say we're the Ford experts, believe it - with an inventory of over 100 brand-new Ford trucks, SUVs, sedans, and compacts, as well as pre-owned selections from Ford and more.

No matter what you're looking for from the 2016 lineup, you'll find it - from the competitive Focus compact, to the spacious Fusion, to the hard-working four-wheel drive Ford F-150, Grimsby Ford has so much more to offer than the competition. So if you're ready to take a test drive with Hamilton's best Ford dealer on your side, find out what we've got in stock in our online inventory!
But while that's a great beginning to the Grimsby Ford experience, it's when you meet the team in person that we really have a chance to shine. Discover the difference that a stress-free sales environment can make - from the minute you drop by, to your first test drive, to the moment you pick up your new keys. It doesn't stop there, though - the Grimsby Ford team is fully committed to helping make owning your new vehicle just as rewarding as buying. Having guidance during the search process is invaluable, but we take it a step further - because while you might only shop for a few days, your vehicle will be with you for years to come. Join us at Grimsby Ford, a greater Hamilton Ford dealer, to discover not only how new and pre-owned Ford vehicles can be fun to buy, but how they deliver consistent value for as long as you drive them

As much as we'd like to believe otherwise, maintenance plays a critical role in owning any automobile. The Ford experts on Grimsby Ford's parts and service teams understand that getting you back on the road as quickly and affordably as possible is job one. So we welcome you to take advantage of the added value these resources provide. We think you'll agree that it's simply a better way of doing business. So make the choice that thousands of drivers just like you from Hamilton, St. Catharines, Grimsby, Lincoln, and beyond have already done - save even more over the life of your vehicle with sales and service specials at Grimsby Ford!
Let's say you're ahead of the game, and you've narrowed down the Ford car, truck, or SUV model you'd like to drive home. Maybe you've even zeroed in on a key feature or trim, like the 2.7L EcoBoost® V6 in the Ford F-150 Lariat. But research will only take you so far - so take the last step by visiting Grimsby Ford. We don't believe in the "hard sell", in old-fashioned high-pressure sales techniques that belong in history books. See what happens when you find a dealership that's on your side from the moment you get in touch with us. Discover the Grimsby Ford difference!
Shopping from home is convenient, but sooner or later, you'll want to visit the dealership itself. Our commitment to accessibility extends to our business hours - our sales, service, and parts teams are ready to serve you 6 days a week. So don't worry if weekdays don't work for you!
Professional Service and Uncommon Courtesy - That's Grimsby Ford
The strength of a dealership is really the strength of its team, and Grimsby Ford excels by every measure. With over 25 dedicated team members across the sales, service, and parts departments, Grimsby Ford strives for excellence every step of the way. We're eager to show you why our growing community of customers keeps coming back year after year!

Discover Today's Best Ford Vehicles, New and Used!
With the 2016 Ford F-150 at its core, Grimsby Ford's 2016 Ford lineup fits Hamilton to a T. This adaptable light- and medium-duty pickup combines timeless toughness with today's best amenities - and with over 50 F-150 XLTs in stock, you can bet we have the perfect blend of options to fit your needs, including cabs, engines, and more. But the F-150 is only the beginning - at Grimsby Ford, you can choose from SUVs and CUVs like the Escape and the Edge, compact cars including the Ford Focus and Fiesta, and the latest iteration of the American muscle car, the 2016 Ford Mustang!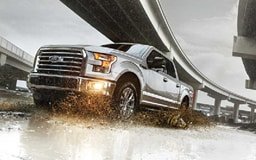 Make Your Dollar Go Even Further - Buy Used From Grimsby Ford
Pre-owned vehicles aren't just easier on your wallet - with the hand-picked used inventory at Grimsby Ford, you can drive home in a car, truck, or SUV that's stood the test of time. Just like our new inventory, we offer more used Ford vehicles than any other make - but with a brisk trade-in business, you might find almost anything in stock. So take a look and see what you find in our pre-owned inventory, and you'll be glad you made Grimsby Ford your Hamilton Ford dealer

Parts, Service and Sales - It's All Here At Grimsby Ford
You can keep Ontario's best customer experience going strong well after you buy, thanks to our fully-stocked parts and service centers. No matter what you need, get in touch with us today to get your Ford back on the road for less. It's never too early to invest in the lifetime value of your vehicle - so check our website for new specials to take your dollar even further!
Becoming A Grimsby Ford Customer Couldn't Be Easier
Whether you're in Hamilton, Grimsby, or elsewhere in Regional Niagara, Grimsby Ford offers sales and service that's a cut above the rest. So find out what keeps our customer base growing year after year, as first-time buyers come back and spread the news. Take the time to discover the value of a relaxed sales environment and a commitment to customer service. So start your journey with us - it only takes a tap!